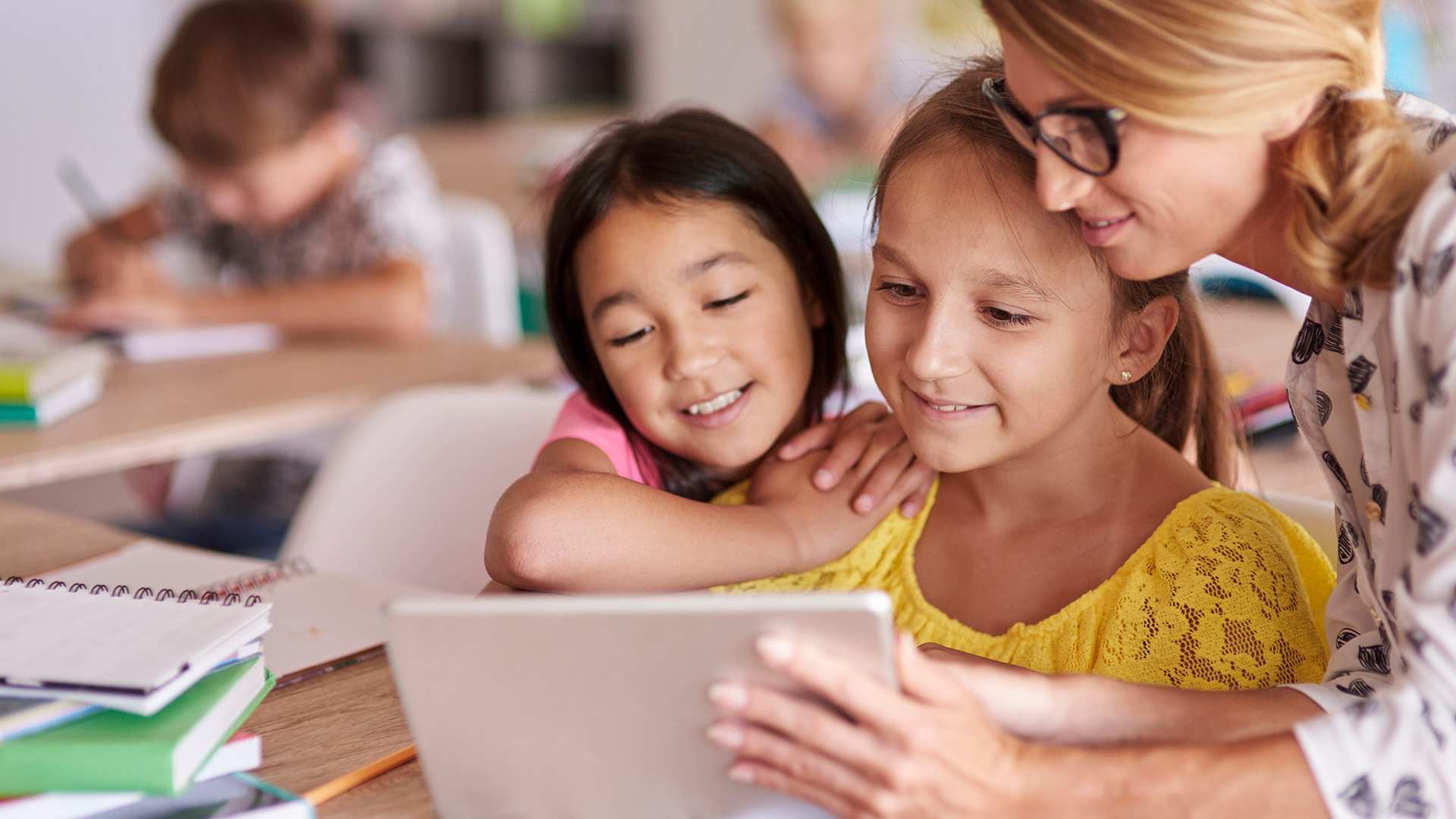 Ready Made Resources, Ready to Go!
February 28, 2022 |  1year | Giglets News
In a busy classroom, having resources ready to pick up and use can save teachers valuable time. On Giglets, there is a choice of task types ready to assign to pupils and use in the classroom with individuals, groups, or a whole class.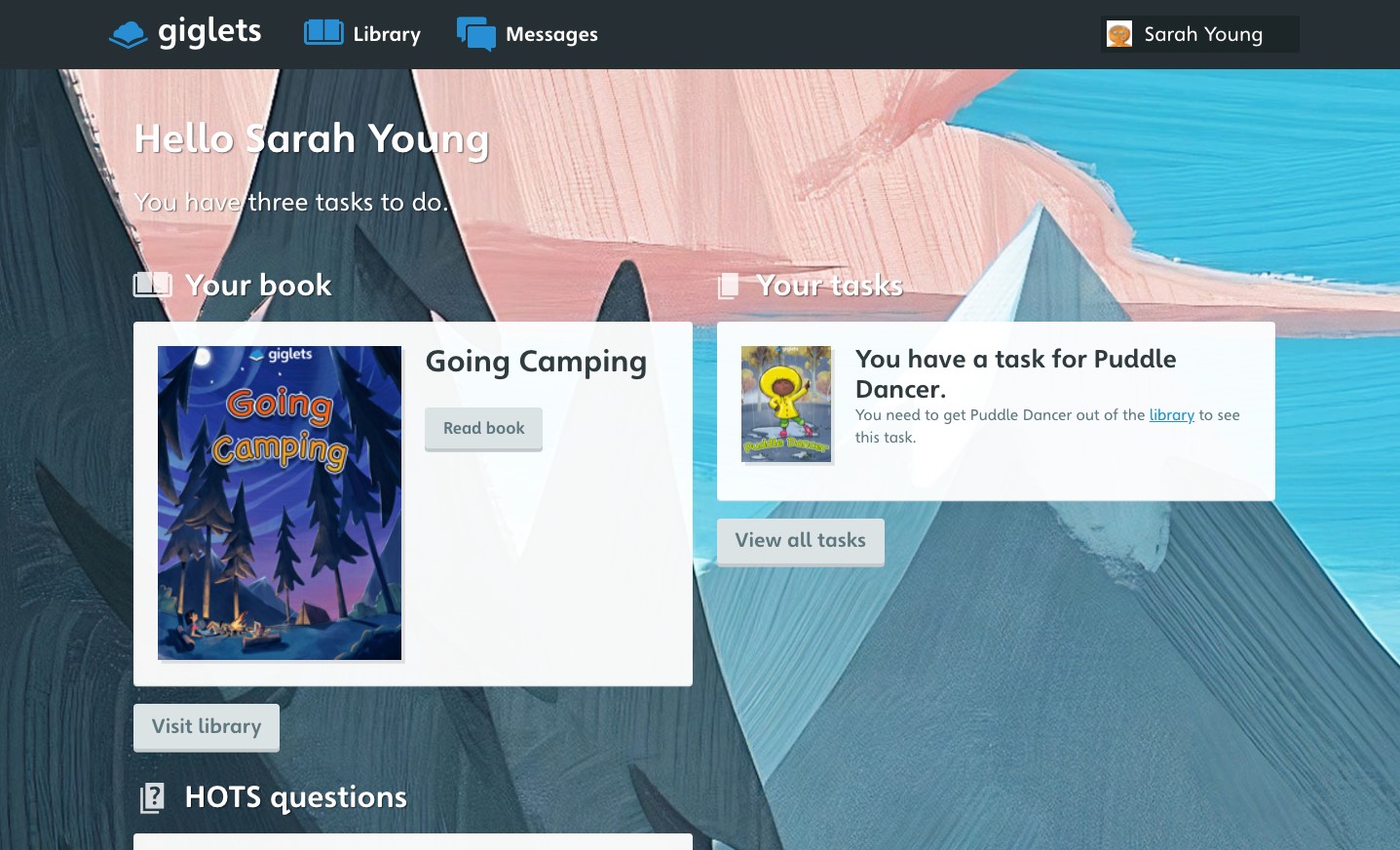 An image of the pupil dashboard on Giglets.
Sets of Higher Order Thinking Skills questions, based around Bloom's Taxonomy, are provided to challenge pupils and help them develop a deep understanding of a text. These are specific to the text to support pupil engagement and take into account the age and stage of the learner to ensure appropriate support and challenge.
Automatically-marked Reading Test Questions give pupils instant feedback and inform teacher reporting through which results can be tracked and monitored over time. There are eight question styles supporting learner engagement and the development of different comprehension skills. Question types include single and multi-select multiple choice, sequencing, matching, sentence completion, true or false as well as find and copy, and underlining questions.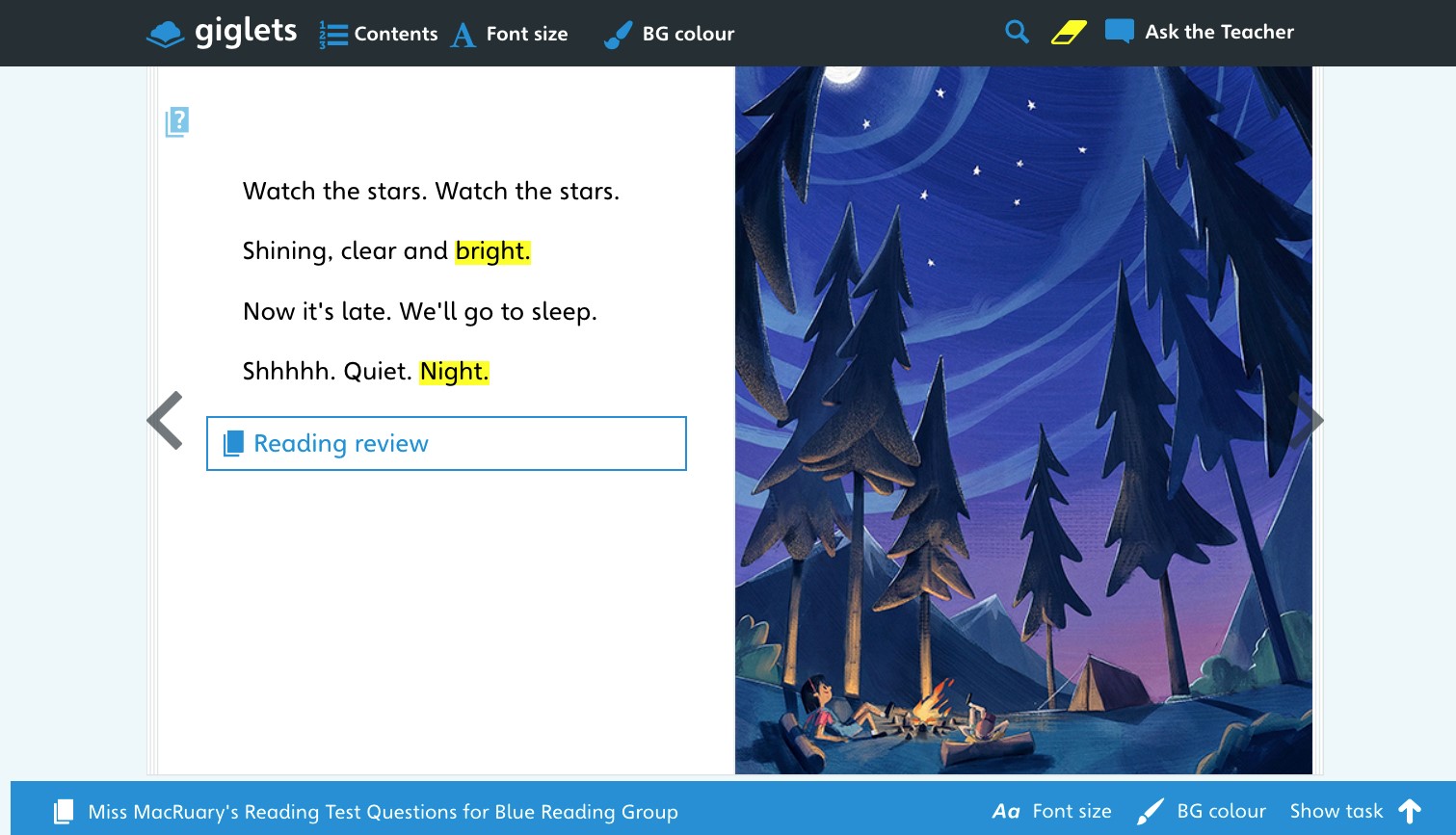 An image showing a pupil reading Going Camping on Giglets and starting a task set by their teacher.
Cross-Curricular Tasks are linked to your curriculum and include suggested learning intentions and success criteria as well as step by step instructions for completing a lesson or activity. Some tasks are literacy-based but many other curricular areas are included to support teachers as they transform texts into inter-disciplinary learning opportunities.

Feedback from teachers is very positive about Giglets tasks. Many value that they have worthwhile and accessible tasks that require very little preparation in advance.

Giglets is an amazing tool for all ages and all abilities. It ensures inclusivity for all as it provides a chance to change backgrounds and edit fonts. The resources are also second to none and can be used not only for literacy but across the curriculum.

Class Teacher, Ysgol Gynradd Calon Y Cymoedd, Wales
I am absolutely loving using Giglets in my classroom and developing its use across our school. It inspires a love of reading, gives access to a wide range of texts at every level, not to mention the hundreds of teaching resources which save valuable hours!! On top of that is the high-quality support available from the team who are always on hand to support, inspire and take on feedback. Keep those books (and ideas) coming!

Class Teacher, Treowen CP School, Wales
Flexible Use
Giglets tasks are very flexible in terms of how they can be used.
Learners can build independence and complete tasks online via Giglets, submitting them for online marking and feedback. However, teachers may also choose to allocate tasks to pairs or groups or work through question sets as a whole class activity.
As oracy is vital skill for developing literacy skills, many teachers choose to use Giglets tasks for developing this before moving onto writing tasks.

As with everything else on Giglets, tasks can be printed should the teacher require a hard copy.
The Power of Personalisation
While, of course, Giglets is delighted to provide a dynamic bank of resources to schools, teachers and pupils, there are lots of reasons why teachers might want to edit the tasks provided and this is facilitated in a user-friendly way.
Teachers may be considering:
supporting learners with additional learning or support needs,
providing challenge to more able children,
amending the task length to suit the time slot or intended purpose available, or
amending the task focus by editing, adding or removing questions.
Teachers can also easily add audio and additional resources to a tasks to best suit the needs of the individuals in their class.
Bespoke Tasks for Your Learners
Teachers may change a little (or a lot!) of any Giglets task but if something more bespoke is required, it is also easy to create a task from scratch on Giglets.
Teachers can create activities through which children can input responses or upload their own work as well as create sets of Reading Test Questions or Higher Order Thinking Skills questions. With eight different question types available, the possibilities are endless!
Giglets in Your School
If you would like to arrange access to the Giglets digital library for your school, get in touch with us now to try Giglets for free! Just email info@giglets.com or sign up for one of our free trial webinars.